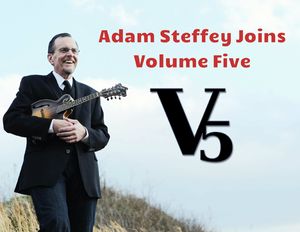 Volume Five is proud to announce the addition of Adam Steffey to the band.  He is a  5-time Grammy award winner and record holding 11-time International Bluegrass Association Mandolin Player of the Year Award winner.
Steffey has toured with an impressive list of bands including Alison Krauss & Union Station, Lonesome River Band, Mountain Heart, The Dan Tyminski Band, The Boxcars, The Isaacs and most recently The Highland Travelers. He has performed with such artists as Kenny Chesney, Clint Black, Vince Gill, Dolly Parton, The Dixie Chicks, James Taylor, Rhonda Vincent, Ronnie Bowman, Jim Mills, and many others. 
Volume Five is led by vocalist and fiddler Glen Harrell who said, "We are excited about Adam joining the band.  He's a fantastic player with a lot of musical ideas.  We are extremely excited to get to work with Adam and I'm sure he will be a great asset to Volume Five!"  Steffey will play mandolin and multi-instrumentalist Jacob Burleson will move to guitar.  The talented Patton Wages on banjo and Jeff Partin round out this award-winning five-piece group. 
Volume Five fans can see this new line-up February 9, 2019 at the Ritz Theater, 111 West 3rd street, Sheffield, AL 35660 at 7pm. 
Volume Five was honored with two 2017 International Bluegrass Music Association (IBMA) Awards including Emerging Artist of the Year and Song of the Year Award for "I Am A Drifter" written by Donna Ulisse and Marc Rossi. 
In 2018, Mountain Fever Records released the band's Milestones album that celebrates their 10th anniversary.  Since then, numerous tracks from the album continue to climb the charts on the Bluegrass Today Weekly and Monthly Charts, Sirius XM Bluegrass Junction's Most Played Tracks and Albums, Roots Music Report and more. 
Steffey will appear on Volume Five's upcoming new album to be released on Mountain Fever Records this year.  The band is currently recording their new album at "the house" at Everett's Music Barn in Suwanee, Georgia.
For more information on Volume Five, please visit them at volumefivebg.com, Facebook, Twitter, and Instagram.  Stream or download their music at iTunes, Amazon, Spotify, Google Play and more outlets.