About Us
Volume Five, the Mississippi-based group that started as a casual jam band in 2008, has grown into one of bluegrass music's most popular and unique acts. The soulful lead vocals by fiddler Glen Harrell and the band's tight instrumentals and vocal harmony have earned the group two IBMA Awards, numerous nominations, and many accolades.
Glen Harrell founded Volume Five early in 2008, and the band has now grown into one of bluegrass music's most unique new acts. "When I put this group together, I knew the style of music I wanted us to play and the goals we wanted to achieve. It was just a matter of finding the right guys who wanted to create their own identity in the industry. I didn't just want us to be another band that moves onto the scene and is gone in a few years, but one that would have a unique sound that players and listeners would remember for many years to come - one that sounded like no other band in the business," said Glen.
In 2010, the band signed with Mountain Fever Records. The label released Down In A Cell, followed by the 2011 release of Children of the Mountain and Run in 2013. In 2014, the label released Volume Five's well-crafted southern gospel-tinged bluegrass album, The Day We Learned To Fly. The album earned Volume Five two International Bluegrass Music Association (IBMA) Nominations that year. They received nominations for the IBMA Emerging Artist of the Year, and another for the IBMA Gospel Recorded Performance of the Year for The Day We Learn To Fly (album), Stacy Richardson and Leroy Drumm (writers), Volume Five (producers).
Continuing with that success, in 2015, Mountain Fever Records released the band's fifth album on the label titled Voices. Due to their live performance popularity and album success, they received two separate industry award nominations. Volume Five received a Nomination for the 2015 IBMA Emerging Artist of the Year Award. They also garnered a Nomination from the Gospel Music Association (GMA) Dove Awards for Bluegrass Song of the Year for the song, "Daddy Was An Old Time Preacher Man." The successful tune featured guest vocals by Rhonda Vincent on the Dolly Parton cover song.
In 2016, Volume Five's album, Drifter, made its debut on the Billboard™' Top 10 Bluegrass Album Chart. This highly successful project, and one of their most-streamed albums to date, rightfully earned the group two IBMA Awards in 2017. They won the Emerging Artist of the Year Award and the prestigious the Song of the Year Award for "I Am A Drifter," written by Donna Ulisse and Marc Rossi.
In 2018, Volume Five celebrated its 10th anniversary with yet another Billboard™ Top 10 Bluegrass Chart album – Milestones. They followed up with the 2019 release of For Those Who Care To Listen, which includes two #1 hit radio singles ("The Army Vet Song" and "The 15th of October") on the Bluegrass Today Top 20 Song Chart. In addition, a highly viewed video for "The 15th of October" was released. The video was filmed during one of their recording sessions at one of bluegrass music's favorite venues - Everett's Music Barn in Suwanee, Georgia.
Volume Five's touring schedule has afforded them the benefit of playing with numerous artists over the years, some of whom have become fans, such as Buddy Melton of Balsam Range, who says, "What defines a great band? Superior musicianship, impeccable singing, moving song selections. Volume Five has all the above and more. Extremely talented, yet humble, and genuinely real people. Volume Five has a magical quality about them that will undoubtedly make a lasting impression in the world of acoustic music."
Volume Five includes the incredible talents of Glen Harrell on Fiddle & Vocals, Patton Wages on Banjo & Vocals, Jacob Burleson on Guitar & Vocals, and Aaron Ramsey on mandolin. In addition, they will soon announce their new bass player member, so stay tuned.
---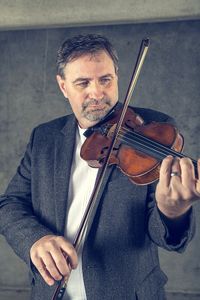 Glen Harrell (Lead Vocals & Fiddle)
Glen has been around music since he was just a child. He started playing guitar at the age of nine and the fiddle at age fourteen. Glen played with various local bands during his high school years before playing in several bands performing in the bluegrass festival circuit. In 2002, he joined country music artist Marty Raybon (former lead singer of the country supergroup Shenandoah) and toured the next six years playing venues across the country and overseas. In addition, the band had numerous television performances and played the hallowed Grand Ole Opry multiple times. Glen created Volume Five in 2008 and said, "I have found the music I have always wanted to play. Also, nothing is better than playing music with friends and having them as bandmates. We all have the same vision for the band." Glen now lives in a small town in Northeast Mississippi called Booneville. He and his wife Michelle have been happily married for over 25 years and have three children.
 
---
Patton Wages (Banjo, Guitar & Vocals)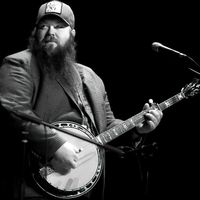 Patton was raised in Stockbridge, Georgia and began playing banjo at age 9. He was first influenced by Earl Scruggs, J.D. Crowe, and Terry Baucom, as well as Scott Vestal, having the opportunity to meet Scott at Everett's Music Barn shortly after his stint with Doyle Lawson. Patton then worked with the Georgia-based group "Lost Horizon," playing festivals around the southeast and making numerous appearances on national television. Patton then spent four years in Nashville sharing the stage with Marty Raybon and working at the Gibson Guitar Corp. OAI Division.
He now lives in Mountain Rest, SC. Patton's interests include his son, Brayden, music and whatever comes up to pass the time.
---
Jacob Burleson (Guitar)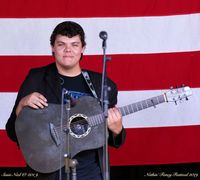 Jacob is from Newland, a small town in the mountains of North Carolina and is the son of Jason and Shelly Burleson. Since his Dad is a founding member of the award-winning group Blue Highway, Jacob has grown up around bluegrass music allowing his talents to thrive by attending festivals and jamming with some of the top pickers in bluegrass. After a few years of jamming and honing his craft as a musician, he landed a gig with Kenny and Amanda Smith band. Jacob's early influences include his heroes - Sam Bush, Adam Steffey, Dempsey Young, Shawn Lane and many more. Blue Highway, Volume Five, Alison Krauss, Tony Rice, Doyle Lawson and Quicksilver and the New Grass Revival are the artists he has listened to and studied the most.
---
Aaron Ramsey (Mandolin)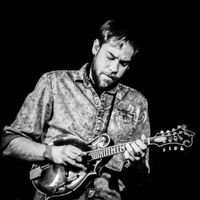 Volume Five is proud to announce the 2020 addition of multi-instrumentalist Aaron Ramsey to the group. Aaron is also a recording engineer with Mountain Fever Records and has worked with Volume Five on several of their albums.
Aaron is from Morganton, North Carolina and began playing mandolin when he was 12 years old in a Gospel bluegrass band called Damascus Road. His father Michael Ramsey played bass in that band. In 2002 at the age of 17, he joined the Linville Ridge Band where he played mandolin and guitar. In 2004, Aaron released his solo project Aaron Ramsey  and two years later he joined Randy Kohrs and the Lites.. In 2007, Aaron joined Mountain Heart where he stayed until joining Volume Five. Aaron also has another solo album "Gathering" released in 2013.."  
---