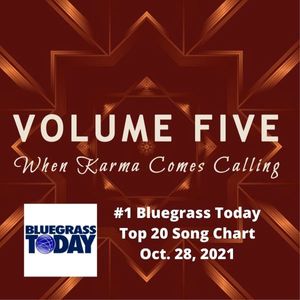 Willis, Va. (October 29, 2021) –The award-winning band Volume Five debuts at #1 on the Bluegrass Today Weekly Top 20 song chart with their new single, "When Karma Comes Calling." This is the first single release from the band's upcoming album, Karma scheduled for release next year on Mountain Fever Records. 
"When Karma Comes Calling" was recorded earlier this year and includes Glen Harrell, Patton Wages, Jacob Burleson, Aaron Ramsey, Jeff Partin, and Kameron Keller. Volume Five's fans are thrilled to hear beloved banjo player Patton Wages on this song, as he suffered a stroke soon after the band recorded the tune. Thankfully, Patton continues to improve and fans love to keep up with him on social media. 
Volume Five has achieved tremendous chart success for both radio airplay and sales over the years. They appeared in the Top 5 on Billboard's Top Bluegrass Charts for a previous release and at #12 for their latest Mountain Fever Records' album, For Those Who Care To Listen. In addition, this award-winning band took home the coveted International Bluegrass Music Association's Song of the Year Award for "Drifter" as well as the Emerging Artist of the Year Award in 2017. 
Volume Five will perform Thursday, November 18, 2021, at the Station Inn in Nashville, Tennessee, and on Saturday, December 4, 2021, at Everett's Music Barn in Suwanee, Georgia. For more information on Volume Five including their music and tour, please visit VolumeFiveBG.com. Reserve a date for Volume Five to perform at your next event at HopeRiverEntertainment.com.