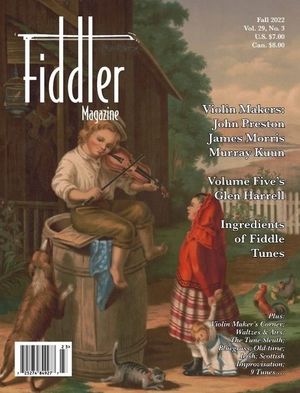 EXCERPT
Glen Harrell - Turn up the VolumeFiddler Magazine|Fall 2022
In just a little over 10 years since its formation, Volume Five has become one of the most popular bluegrass bands in the industry. The reason is obvious: distinctive, strong vocals, quality instrumentation, well-chosen bluegrass and gospel songs in its repertoire, and a dedicated leader of the band.Matt Merta 
That position is held by vocalist/fiddler Glen Harrell. Since 2008, he has made Volume Five one of the most recognizable names in the bluegrass festival circuit. 
This success and recognition did not come easy or out of the blue. Harrell has been working with his fiddle for a number of years in order to create a unique and creative sound in bluegrass. The main ingredient to that sound has been his passion for the music. His early years were spent in Cherokee, Alabama, and though he started out on guitar as a kid, it was his father that motivated him to move toward the fiddle. "My great-grandmother told me she would buy me a fiddle if I would learn to play it," he explains. "At that time it just seemed like something new and fun to do. I had no idea I would come to love it and all the places it would take me throughout life."
Harrell would spend his early music years jamming at relatives' homes and visiting bluegrass festivals with his family. Like most teenagers, he would play with friends and form short-lived bands, although he leaned more toward bluegrass and country projects than the expected rock bands of high schoolers. "When I was about 14 or 15, I started playing with a band around the Muscle Shoals, Alabama, area called Bell Terry and the Alabama Grass. 
"At that time the Bluegrass Album Band had just gotten really popular so I listened to a lot of their music. I loved Bobby Hicks' fiddle playing and tried to sit down with a cassette player and learn all the licks I could that he played. He is still one of my all-time favorites." During this time, he was playing a Stradivarius-copy five-string fiddle.
Read the entire article in the magazine.