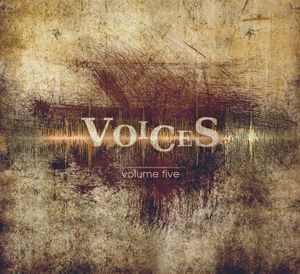 Mountain Fever Records announces the release of
Voices
from Volume Five, available today. Founded in early 2008 by vocalist and fiddle player
Glen Harrell
, Volume Five includes the talents of
Harry Clark
(Mandolin & Vocals),
Chris Williamson
(Bass & Vocals),
Patton Wages
(Banjo & Vocals,) and
Colby Laney
(Guitar & Vocals.)  These five musicians together truly blend into a band with staying power. "When I put this group together, I knew the style of music I wanted us to play and the goals I wanted to achieve," stated Harrell. "It was just a matter of finding the right guys who wanted to create their own identity in the industry. I didn't just want us to be another band that moves onto the scene and is gone in a few years, but one that would have a unique sound that players and listeners would remember for many years to come - one that sounded like no other band in the business."
Voices i
s the band's fifth album and features 12 tracks of carefully selected songs, showcasing the many facets of musical tastes that come from within the decidedly bluegrass ensemble—traditional, classic, and on-the-edge—this CD covers it all. The album features the vocal and instrumental prowess of each V5 band member along with the added talents of Jeff Partin who plays Dobro and also contributed three original songs ("Satan's Ridge," "Faithfullly," and the first single, "Crazy Nights"). V5 guitarist Colby Laney brought two original songs ("Going Across the Mountain" and "Sam's Gap") while the album is rounded out with cuts written by noted country artists Hal Ketchum, Jedd Hughes, and Dolly Parton, whose classic "Daddy Was An Old Time Preacher Man," is sure to be a standout track with the addition of Rhonda Vincent sharing the vocal spotlight with V5 ring-leader, Glen Harrell. Produced by Aaron Ramsey and recorded at Mountain Fever Studios, Voices is already receiving rave reviews from radio programmers and media:
"There's not a bad cut on the album but I've been featuring "Crazy Night," written by Jeff Partin. I also like the rousing gold-mining saga "King of California" that kicks off the album and the remake of Dolly Parton's "Daddy Was an Old-time Preacher Man" featuring Rhonda Vincent on guest vocals." - Wayne Rice, KSON - FM
 
"The new Voices project is a must have bluegrass CD. Superb vocals and top notch instrumentation make this a pleasure to listen to. From songs of heartbreak to songs of faith - 12 tracks of bluegrass done just as it should be!" - Joe Stutzman, Heartland Bluegrass
 
"Voices is bluegrass at full strength…it fits my definition of a great bluegrass album: one that reminds me why I fell in love with the music all those years ago." - Jerome Clark, Editor, Rambles.net.
 
"Voices is the perfect title from the V5 gang because their voices have never sounded better!  A mix of original songs with a few covers, you will just want to put on some headphones, lean back, shut your eyes, and just hear the "Voices" of Volume Five." - Gene Skinner, Great Stuff Bluegrass
The track listing for Voices is as follows:
1. "King of California"
2. "Going Across the Mountain"
3. "Dream Softly"
4. "Crazy Night"
5. "Strangest Dreams"
6. "Daddy Was  An Old Time Preacher Man" with Rhonda Vincent
7. "Satan's Ridge"
8. "Colder and Colder"
9. "Sam's Gap"
10. "Amanda"
11. "Soldier For the Lonely"
12. "Faithfully" 
Voices is available today for digital download at iTunes, Amazon, and wherever great music is sold. Radio Programmers may download Voices via AirplayDirect. For more about Volume Five, visit www.volumefivebg.com. For more about Mountain Fever Records, visit www.mountainfever.com.