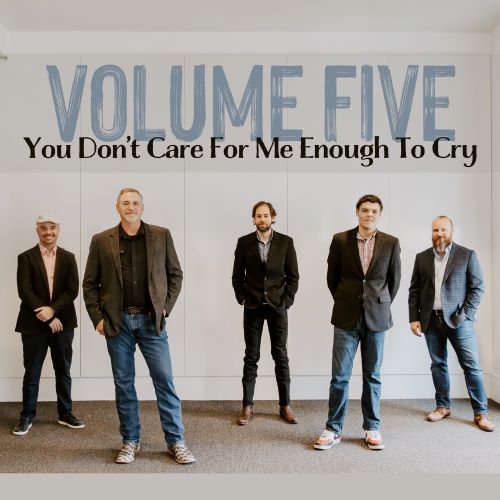 Willis, VA (October 20, 2023) --  Volume Five is out with a new single, "You Don't Care for Me Enough to Cry," the first release from their upcoming album coming out next year on Mountain Fever Records. Band leader Glen Harrell said, "'You Don't Care For Me Enough To Cry' was written by the talented John Moreland. Every now and then, you run across a song that takes your breath away, like this one did for me. We hope you enjoy Volume Five's version, and it moves you the way it moved me when I first heard John perform it."
"You Don't Care for Me Enough to Cry" features Volume Five band members Glen Harrell on lead vocals and fiddle, Jacob Burleson on guitar, Aaron Ramsey on mandolin, and Chris Wade on banjo, with guest Jeff Partin on bass and Dobro.
Volume Five's current album, KARMA, continues to achieve remarkable success. Seven songs from that album hit the bluegrass charts with four songs reaching #1, including "Restless Heart and a Rambler's Soul," "Losing My Religion," "Walk Beside Me," and "When Karma Comes Calling," which was #1 seven times on the Bluegrass Today Top 20 Song Chart. Other chart songs include "What I Didn't Say," "You Take Me as I Am," and "My Life." In addition to Bluegrass Today chart success, the band has appeared on Bluegrass Unlimited Magazine's National Bluegrass Radio Survey Chart, Cashbox Magazine, Roots Music Report Top Bluegrass Songs and Albums charts, and other radio charts.
Bluegrass music fans can catch Volume Five live at the Mountain View Bluegrass Festival in Mountain View, Arkansas, November 10-11, 2023.
For more information on Volume Five, please visit volumefivebg.com. For more information on their Mountain Fever Records music catalog, please visit mountainfever.com.