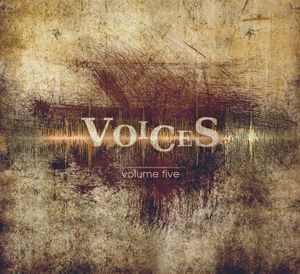 In just a few short months, Volume Five's album, Voices on Mountain Fever Records, has soared to new heights on the radio charts.  Voices is currently #1 on SiriusXM Radio Bluegrass Junction's Most Played Albums chart, made its debut on the April Bluegrass Unlimited Magazine National Bluegrass Survey Top 15 Album Chart, and is #3 on the Roots Music Report's Top 50 Bluegrass Albums this week.Voices is the group's fifth album and features 12 tracks – five of which are now appearing on a variety of bluegrass radio charts. "Dream Softly" is the #1 song on SiriusXM Bluegrass Junction's Most Played Tracks this month, #6 on Bluegrass Today's (BT) Top 20 chart, and #13 on the Roots Music Report this week, along with "Sam's Gap" at #29.  Two other songs appear on this week's Bluegrass Today Top 20 including "Going Across the Mountain" at #5 and "King of California" at #20 with "Faithfully" making its debut last month.  "King of California" also moved up five spots this month on the Bluegrass Unlimited Magazine's National Bluegrass Survey Top 30 Song Chart as well.
Media has also raved about the album with recent reviews stating:
"Volume Five has been releasing some of the best new modern traditional bluegrass around for the past several years." - Bluegrass Today
"Voices — the fifth album the group has released under the Mountain Fever Records label — showcases a blend of bluegrass styles, from traditional to contemporary. The album's shift from an introspective tune at one moment, to a rousing and robust song the next, is done with incredible finesse. Volume Five can do it all, and with Voices, they do so with the reliability of a train that still, somewhere, comes down Main Street on a regular basis." - Parchbench
"Voices is bluegrass at full strength. From the opener, an inspired reading of Dave Alvin's folk ballad 'King of California' to the closer, the ironically titled 'Faithfully,' Volume Five shows its affinity for hard-hitting storytelling songs, while numbers like Amanda' and 'Colder and Colder' resound with bedrock emotional truth. A 21st-century band in the best sense, Volume Five yet remains firmly rooted in tradition, in a fusion of old and new that brings to mind, without imitating, the early Country Gentlemen.  Voices fits my definition of a great bluegrass album: one that reminds me why I fell in love with the music all those years ago. If they keep at it at this level, these guys are surely bound for glory." -- Rambles.Net
"With endorsements from Rhonda Vincent (who supplied guest vocals on one track) and Balsam Range vocalist Buddy Melton, this band has some enthusiastic admirers. I'm now one of them." - Black Rose Acoustic
Volume Five includes the talents of Glen Harrell (Lead Vocals & Fiddle), Harry Clark (Mandolin & Vocals), Chris Williamson (Bass & Vocals), Patton Wages (Banjo & Vocals), and Colby Laney (Guitar & Vocals) who earned two International Bluegrass Music Association (IBMA) nominations last year – one for Emerging Artist of the Year and the other for "The Day We Learn to Fly" in the Gospel Recorded Performance of the Year category.
Music fans can purchase
Voices
at
iTunes
and in digital or CD formats at
Amazon
, Mountain Fever Records and Volume Five's website at
www.volumefivebg.com
. For more about Mountain Fever Records, visit
www.mountainfever.com
.  Radio programmers can download the entire album at
http://www.airplaydirect.com/music/V5Voices/
.