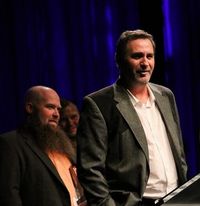 Volume Five was honored with two International Bluegrass Music Association (IBMA) Awards that were presented during the 2017 IBMA Awards Show held at the Duke Energy Center for the Performing Arts in Raleigh. 
The first award announced for the band was for Emerging Artist of the Year. The group features the extraordinary talents of lead vocalist, fiddle player and band leader, Glen Harrell who is joined by Colby Laney on guitar and vocals, Patton Wages on banjo and vocals, Chris Williamson on bass and vocals, and aspiring young talent, Jacob Burleson on mandolin and vocals.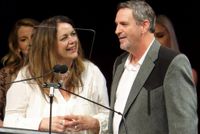 Volume Five was also presented with the prestigious the Song of the Year Award for "I Am A Drifter" written by Donna Ulisse and Marc Rossi. The crowd was delighted with Ulisse's excitement while accepting the award with Glen Harrell and the band. The chart-topping tune appears on Volume Five's album Drifter on Mountain Fever Records that debuted last year on Billboard's Top 10 Bluegrass Album Chart. 
"I would like to thank everyone for all the kind words to me and the V5 members. I also want to thank all the guys that have been with the band over the years and have contributed to our sound and success. I would like to thank Harry Formby Clark, Adam Duke, Jeff Partin, Mark Hodges, Casey Cullwell, Jesse Daniel, Shane Blackwell, and Aaron Ramsey. Thanks so much to Moonstruck Management as well. We just couldn't do this without the entire team," said Harrell. 
For more information on Volume Five, please visit them at volumefivebg.com, Facebook, Twitter, and Instagram. Check out Drifter at iTunes, Amazon, Spotify, Google Play and more retail and streaming outlets. 
##